With 14 years as a Professional Brisbane Marriage Celebrant, Glenda offers a delightful range of civil ceremonies.
Weddings

, according to law in Australia is the union of two people, and

Other Civil Ceremonies

, for all life occasions.  These ceremonies include Naming, Renewal of Vows, Celebration of Life and Funeral ceremonies.
Glenda is Highly Recommended

Happy clients appreciate that I am friendly, professional and caring.
Your day, your way.  I listen to you carefully, and respect your wishes and ideas.
Delighted clients share what they love about their special day.
Honest reviews from clients in these real testimonials and recommendations.

Glenda has the Qualifications

Commonwealth-registered Marriage Celebrant, (CMC), authorised by the Australian Attorney General to conduct marriage ceremonies in Australia since 2004.
Current registration as an authorised Marriage Celebrant.  This means that I complete Annual professional development through the Marriage Celebrants Program of the Australian Attorney General to keep up-to-date.
Certified Practicing Celebrant (CPC), an award by the Professional Celebrants Association Inc.
Certificate IV in Celebrancy with majors as a Marriage Celebrant, as well as a Funeral and General Life Celebrant.
Great people skills give Glenda the professional edge!

Clear communication skills make life easy for everyone!  I am a keen listener, and will answer your questions promptly and clearly.  As a teacher, I have a wealth of skills and experience in 'getting the message across' through both speaking and writing.
Inclusive relationship skills allow people to feel comfortable.  I relate well to people of all ages and backgrounds.  Putting people at ease is the key to good experiences.
Connected community skills allow me to learn and to grow in how I can help people.  I meet many delightful people through community services.  I serve in the  JPs in the Community Program as a JP(Qual) and also volunteer as a history guide at a local heritage-listed house.  Community theatre, both on and off stage, is great fun and connects me with people of all ages and backgrounds.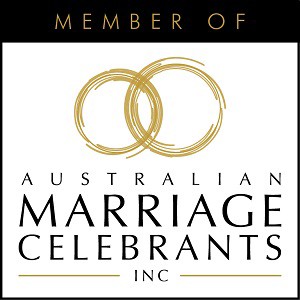 Membership of the Australian Marriage Celebrants Association Inc.
As a professional marriage celebrant, I have up-to-date information about all the current legal aspects of marriage and ceremony trends.  Not only do I access great resources that cover all ceremony areas, but I also access excellent support forums.
What is most important is that I provide clients with expert information when they need it.