Hi! I create your Personal Brisbane Wedding Ceremony – just right for you!  Simple and private ceremonies, to large celebrations with extended family and friends.
As a Professional Marriage Celebrant, I perform Weddings to solomise marriages between two people according to law in Australia.  These delightful wedding ceremonies are crafted individually.  I offer ceremonies in the Greater Brisbane, and surrounding Bayside areas.
Glenda offers Personal Wedding Ceremonies.
Best ever personal wedding ceremony!
Personal wedding ceremonies are simply delightful! No two ceremonies are the same!  Meet Peg & Pog, a couple who face all sorts of challenges in planning their wedding.   Glenda Ashleigh, the Professional Brisbane Marriage Celebrant, helps Peg & Pog to have their wedding ceremony just the way they want it!
You are invited to Peg and Pog's ceremony, simply the best ever personal wedding  in the Rose Garden!  You too can have the best ever personal wedding ceremony just the way you want it!
Clients highly recommend Glenda.

Happy clients appreciate my professional,  friendly, and caring approach.
Your day, your way.  I listen carefully, and respect your wishes and ideas.
Attention to detail makes the difference.  I bring special touches that make your ceremony personal.
Together, we make your hopes and dreams for your special day come true.
Delighted clients give their honest reviews in these real testimonials and recommendations.

Glenda is a Registered Marriage Celebrant.
Commonwealth Registered Marriage Celebrant, (CMC), authorised by the Australian Attorney General.  I complete annual professional development through the Marriage Celebrants Program of the Australian Attorney General.  This keeps me current with the legal requirements of The Marriage Act and Regulations to perform marriages between two people in Australia.
Glenda is a Professionally Qualified and Experienced Celebrant.
Certified Practicing Celebrant (CPC), an award by the Professional Celebrants Association Inc. that recognises the development and commitment to professional practices in celebrancy services.
Certificate IV in Celebrancy, qualifies me as a Registered Marriage Celebrant, as well as a Funeral and General Life Celebrant.
Seventeen years experience as a Professional Celebrant.  My trustworthy and confidential approach is essential to the quality service that I offer all clients.
Glenda has Professional Edge.

Professional edge means that I communicate with you clearly so that you will be able to understand easily.  Your ceremony is my business, so I listen carefully to you.  My aim is to provide you with quality service.  People of all ages and backgrounds feel welcome and comfortable with me.  I am a confident presenter and public speaker.
Glenda is part of the Community.

I love to contribute to the local community.  As an active member of the  JPs in the Community Program I volunteer as a JP(Qual).  It is also great fun to take part in Community Theatre Groups.  Both performing on stage and helping behind the scenes activities  connect me with people of all backgrounds in the local community.
Glenda is a Professional Celebrant.

Part of being a Professional Celebrant means that I am qualified and experienced to also offer a range of Civil Life Ceremonies.

Civil Life Ceremonies include Namings, Vow Renewals, and Celebration of Life/Funerals.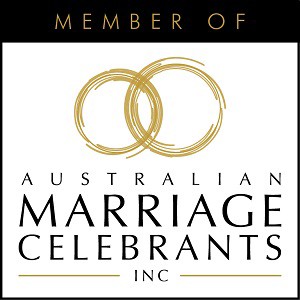 The Australian Marriage Celebrants Association Inc. is an association for professional celebrants.  Membership keeps me up-to-date with the current legal aspects of marriage, ceremony requirements, and wedding trends.
This means that you get expert and reliable information.  Together we plan the wedding ceremony that is just right for you.