Brisbane Celebrant Weds Ducks in Love
Glenda J Ashleigh, Brisbane Celebrant weds the delightful love ducks in a 'first' for Brisbane.  Brisbane ducks will never be the same!  These 'luvducks' will say 'I do' in the beautiful Brisbane Bayside suburb of Manly.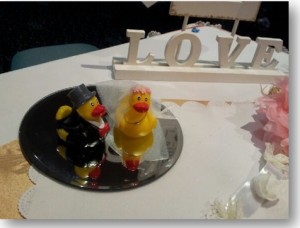 Brisbane ducks will gather to witness the Bride & Groom being  joined for evermore in duck love.
The wedding pond is a romantic wedding venue where the Bride & Groom first found love.  The Bride & Groom will display their love with a large 'Love' sign.
Brisbane Celebrant, Glenda Ashleigh is very good at guiding nervous Brides & Grooms (including ducks) through their romantic wedding vows.
There will be much 'happy flapping' when the Groom gives the Bride an affectionate peck at the end of the ceremony.
Brisbane's Beautiful Bayside
Duck family and friends are delighted that the two 'luvducks' will be wed in Brisbane's Beautiful Bayside.
The Wynnum-Manly-Lota area on Moreton Bay has many great venues for wedding ceremonies all year round.  This suits ducks just fine as the water is never far away.  Lovely sea breezes during summer days allow ducks to relax and enjoy themselves.  Winter days by the bay are a duck's delight with sunshine glinting on the water.
Brisbane Celebrant Glenda Ashleigh
Brisbane Celebrant Glenda Ashleigh is Brisbane's Really Good Celebrant.  People (and ducks) find Glenda friendly and approachable.  Glenda is a true professional, reliable and trustworthy.  Your ceremony is Glenda's business and she takes very good care of it.
What does Glenda do very well?  She really listens to Brides & Grooms.  Your wishes come first!  You can be confident that Glenda will help you plan the ceremony that best suits you.
The Wynnum-Manly-Lota area is easy to get to from the Brisbane CBD.  It is close to the Gateway Motorway, linking the northern and southern areas of Brisbane.
Contact Glenda
Contact Glenda by mobile, or if you prefer, text for a callback to chat about your ceremony wishes, needs and wants.  Glenda will answer your questions clearly and honestly.
You are welcome to arrange a meeting with Glenda, obligation-free to discuss your ceremony.